*Disclaimer: This is information only, you are encouraged to do your own research.
COVID-19 hotline at (844) 442-2681
Governor's Office
Governor's Executive Orders – https://gov.georgia.gov/executive-action/executive-orders-0/2020-executive-orders
Governor's Press Releases – https://gov.georgia.gov/press-releases
DECAL Hotline: 1-877-ALL-GA-KIDS or 1-877-255-42-5437
IHME Model link for COVID-19 Pandemic: View the model
Georgia Department of Health
Daily updates (Noon & 7:00 PM) for DPH (Please REFRESH your browser to ensure you receive updated information) – View the Updates
Confirmed cases of COVID-19 Georgia Department of Public Health is defined as a person who has tested positive for 2019 novel coronavirus.
Testing criteria includes symptomatic critical infrastructure workers and symptomatic individuals who have had direct contact with positive COVID-19 patients, including family members. We will also continue to prioritize testing for symptomatic individuals with chronic health conditions along with first responders, healthcare workers, law enforcement, and long-term care facility residents and staff regardless of symptoms. And although physicians can continue to refer patients to us for testing at public health sites, state officials can directly schedule people who require testing through local districts.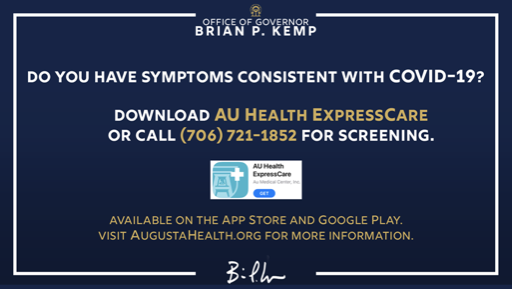 Nursing Homes
CMS recommendations on visitors in nursing homes:
https://www.cms.gov/newsroom/press-releases/cms-announces-new-measures-protect-nursing-home-residents-covid-19
Small Business Information
For Georgia Businesses: University of Georgia's 17 Small Business Development Centers (SBDC), in conjunction with the Georgia Department of Economic Development (GDEcD) and Department of Community Affairs (DCA) has launched an information website to provide guidance on accessing a variety of U.S. Small Business Administration (SBA) programs. This critical funding will help small businesses keep workers employed during the current COVID-19 pandemic.
SBA Updates & Programs: https://www.sba.gov/funding-programs/loans/paycheck-protection-program-ppp
Loan status check: SBA Disaster team has 5,000 to 7,000 customer service representatives answering questions:
SBA's Customer Service Center: 1 (800) 659-2955 or email specific questions to your lender or disastercustomerservice@sba.gov
Completed paper applications should be mailed to: U.S. Small Business Administration, Processing and Disbursement Center, 14925 Kingsport Road, Fort Worth, TX 76155
Treasury Updates: https://home.treasury.gov/policy-issues/top-priorities/cares-act/assistance-for-small-businesses
We also wanted to share some links and documents that you can use to help applicants. The first link below is being updated by SBA HQ constantly as new information becomes available.
SBA COVID-19 Relief Programs: https://www.sba.gov/funding-programs/loans/coronavirus-relief-options
SBA 7(a) Paycheck Protection Program
A fact sheet that outlines the eligibility requirements as well as the information to gather is available from the U.S. Department of the Treasury.
SBA Economic Injury Disaster Loans https://covid19relief.sba.gov/#/
Unemployment Claims
Employers are mandated to electronically file partial claims on behalf of their employees whenever it is necessary to temporarily lay workers off. All Georgia employers will share in the cost of unemployment benefits paid to employees
https://dol.georgia.gov/gdol-covid-19-information
Q&A: https://www.dol.gov/agencies/whd/pandemic/ffcra-questions
Employee Rights: https://www.dol.gov/agencies/whd/pandemic/ffcra-employee-paid-leave
Employer Requirements: https://www.dol.gov/agencies/whd/pandemic/ffcra-employer-paid-leave
FFCRA Poster: https://www.dol.gov/agencies/whd/pandemic/ffcra-poster-questions
Department of Revenue
Georgia Department of Education, USG, TCSG:
School Closures: All public schools closed through remainder of school year
As you know, Woods' office has suspended Milestones testing for end of this school year and suspended attendance requirements for schools.
https://www.georgiainsights.com/coronavirus.html
USG/TCSG
Moving to all online courses through end of semester except for students who need in-person experience (clinicals)
Broadband Services
By visiting broadband.georgia.gov, Georgians can find locations to which they can drive for accessing WiFi around the state, made available from telecommunications cooperatives and government agencies. While many public libraries are currently closed, some are still offering limited services such as WiFi outside their buildings.
Secretary of State- Vote by Absentee Ballot www.sos.ga.gov
Someone who is registered and does not fall into the "inactive elector" category, which is detailed in O.C.G.A. Section 21-2-234 and O.C.G.A. Section 21-2-235. My understanding is that our office is The office is required to maintain a list of electors and an inactive list of electors (O.C.G.A. Section 21-2-235). The list maintenance process is explained here: https://sos.ga.gov/index.php/elections/2019_list_maintenance
June 9th is new General Primary Election date. Absentee ballot applications sent to all active voters. The applications will be pre-populated with voter data but have a barcode for the counties to be able to quickly lookup and process them. The signature verification process is still in place for security. Upon verification, each day the office will forward the list of requests to a third-party vendor who will mail the absentee ballot. This plan will maintain consistency throughout the state and eliminate postage and personnel costs for counties.
In-Person Voting
State law requires people to have the ability to vote in person. Therefore, counties must set up and run early and election day polling locations. If social distancing recommendations are maintained, this will be challenging. Beginning in February, our office began ordering disinfecting wipes and sprays to provide to counties to use in polling locations. Securing enough poll workers is another concern since the average age of volunteers is estimated to be 70, which falls into the high-risk category for COVID-19. The goal is to provide counties additional resources to handle the increased interest in absentee voting while simultaneously helping them cope with the increased difficulties of in-person voting due to social distancing, thus minimizing risks to poll workers and in-person voters.
Preventing Fraud
The passage of HB 316 brought forward tools to help reduce the potential for fraud, especially through ballot harvesting. Absentee ballots may only be sent to the individual who requested it, and the only person who can complete, handle or return that ballot is the individual to whom it was sent or a family member who lives in the same household
Census https://my2020census.gov/
-Article I, Section 2 of the U.S. Constitution mandates that this population and housing count occur every 10 years. Census data guide how more than $675 billion of federal funding is distributed to states and communities each year. You are required to complete it.
-By law, the Census Bureau is required by law to protect your information. It can only use your responses to produce statistics. The Census Bureau is not permitted to publicly release your responses in a way that could identify you or your household. The Census Bureau plans to make results of this study available to the general public. Results will be presented in aggregate form and no personally identifiable information will be published.
-Questionnaire should be completed by the person who owns or rents the living quarters or any other person who is at least 15 years of age with knowledge of the household.
Department of Driver Services
DDS has issued a 120-day extension for drivers 60 years old and older in driver license renewals. The following link has details of the extension and other related information. https://dds.georgia.gov/coronavirus-covid-19
Department of Economic Development
COVID-19 related link: https://www.georgia.org/covid19
Georgia Department of Corrections
COVID-19 daily link: http://www.gdc.ga.gov/content/cases
United Way COVID Community Economic Relief Fund 1-866-211-9966
Clayton County Dept. of Public Health 678-479-2223
Mental & Addiction Help Clayton Center 1-800-715-4225
DFCS Food Stamps & Medicaid www.gateway.ga.gov
FRAUD HELP Attorney General Office 404-651-8600 or 1-800-869-1123 www.consumer.ga.gov
Food Sites: CCPS Grab & Go www.clayton.k12.ga.us Community In Action 678-756-8810
Veteran Services 404-656-2300 VA Medical Center 404-321-6111
Additional Pandemic Financial Resources & Information https://docs.google.com/document/u/1/d/e/2PACX-1vQcTrH1ggK56zFVy4FNPfLR9IeLxSS2efga_tpt-zDZV78OnrYvgAATNzulotQa4Ziey0ZNLC7xuOBG/pub
We pray you and your family stay safe.